The Hot Tub Mover offers a range of hot tub services.
Hot Tub Disposal
Hot Tub Storage
Hot Tub Relocation
Hot Tub Transport
Find out more below.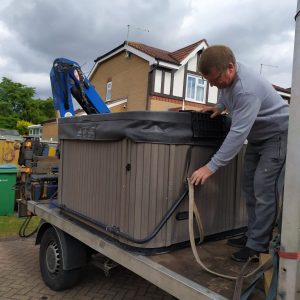 Hot Tub Disposal
Got a broken or unwanted hot tub? Bought a house with a hot tub that you don't want. We can remove the hot tub for you with minimal fuss and hassle. Prompt and polite service (see below for more details)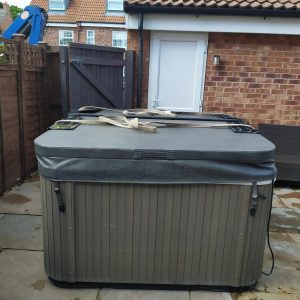 Hot Tub Garden Move
Having a garden makeover? Need your hot tub moving within your garden. We can help and move your tub for you.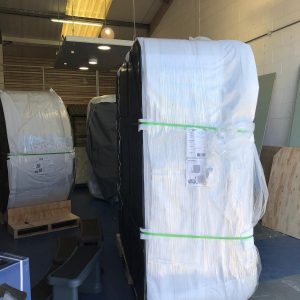 Hot Tub Storage
Need to store a hot tub for a period of time.Moving House or having work done at home. We offer a secure storage facility to remove and redeliver your hot tub when required.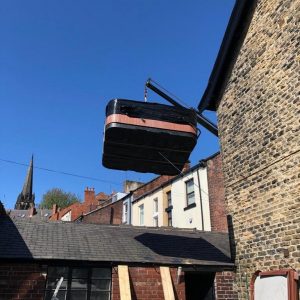 Hot Tub Lift Service
Bought a new hot tub and delivery is only to the kerbside? We can meet the delivery team and move your tub into your garden and lift over walls and fences with our hot tub crane truck
You may qualify for a free hot tub disposal. To help us evaluate this option, please send us the details below.
1. Several pictures of the hot tub – showing the exterior, interior, control panel, cover
2. Details if the tub is working, partially working, not working
3. Details of how the tub could be removed from its location – send a video like this (sample – https://youtu.be/4s0uYEuffvw)
4.Postcode of where the tub is located for collection
5. Approx dimensions, make and model (if known) 
 We specialise in Hot tub moves, hot tub transport and hot tub delivery services across the UK. We are fully insured and have the correct equipment to move a hot tub safely and efficiently.
Our custom hiab crane enables us to lift hot tubs over walls and fences with ease.
Check our our rating of 5 Stars on Trustpilot.