SWIM SPA REMOVAL – HULL – 25TH JUNE 2020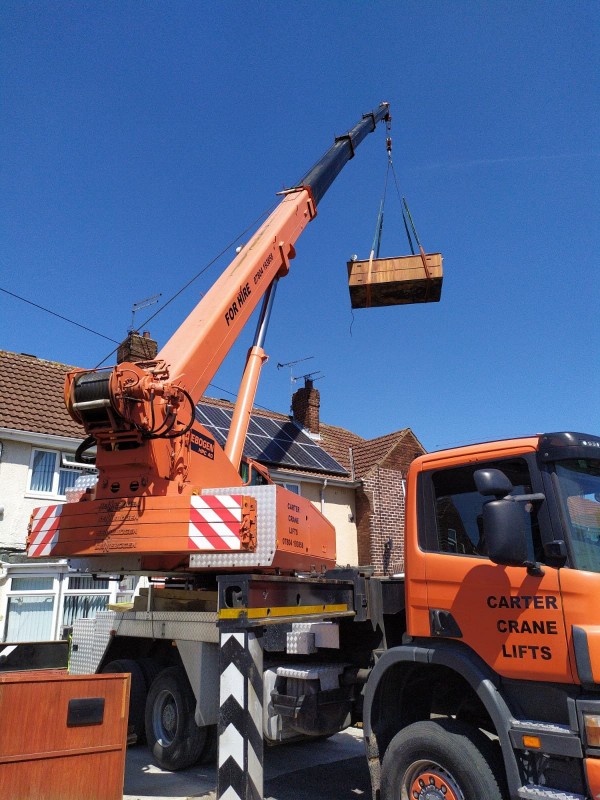 Today was a BIG job!
The Hot Tub Mover had been asked by a client to survey to carry out a swim spa relocation  in Hull.
The Survey concluded it would be quite a task as the spa would need craning over house and then craning back into the new location – again over the house.
The Collection End.
First task was to pull down the summerhouse that the swim spa was sat in – the client had organised a skip so the team removed the summerhouse and it was placed in the skip on the roadside. We were the ready to lift the spa.
The dry weight of this spa was 1.3 tonnes , with the residual water left in the pipework the spa tipped the scales on the crane at 1.6 tonnes!!! We had booked the services of one of our regular crane companies who we knew had the skills and the know how to remove this spa from its home.
The spa was safely removed from the garden over the house and onto our trailer ready for transport
The Delivery End
A short trip across Hull and we moved the spa to the delivery location. The customer has prepared a concrete pad for the spa to sit on and key to this move was landing the spa directly on to the pad.
A few branches were removed to allow the crane to swing and rotate around and the spa was safely placed on to the pad in its new home.
The Hot Tub Mover specialises in the following hot tub move services:-
Hot Tub Delivery
Hot Tub Relocation
Hot Tub Disposal
Hot Tub Removal
Hot Tub Storage – both long and short term
We are expert hot tub movers and are able to transport a tub anywhere in the UK. We have professional hot tub moving equipment including spa sledge, spa dolly and the airquee hot tub lifting wedge
The Hot Tub Mover owns and operates a custom hot tub truck crane which enables us to lift a hot tub over a fence or wall with ease.
The Hot Tub Mover is  fully insured for both goods in transit and public liability risk and our staff our fully trained to move a hot tub safely and efficiently.
We are rated 5 Stars on Trustpilot.
Other Resources Our Customers May Find Useful