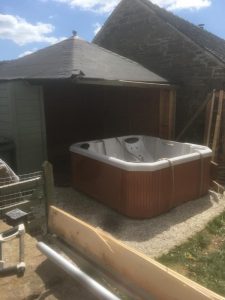 Hot Tub Relocation
---
Today we had quite a task to remove a hot tub from a summerhouse. The tub had been installed quite a while and a beautiful summerhouse had been built around it meaning there was some work to do in order to remove it.
The dimensions of the hot tub meant that it couldn't be removed without a little bit of surgery on the summer house itself however the summer house was being sold so we saved the new buyer a bit of work by removing one of the side panels to allow the tub to be slid forward.
Once it was free of the summer house, it was a simple task to lift the tub onto our truck and secure it down safe for transport.
---
---
About The Hot Tub Mover.
We specialise in Hot tub moves, hot tub transport and hot tub delivery services across the UK. We are fully insured and have the correct equipment to move a hot tub safely and efficiently.
Our custom hiab crane enables us to lift hot tubs over walls and fences with ease.
Check our our rating of 5 Stars on Trustpilot.
Tel: 07525 326044 – Email [email protected]