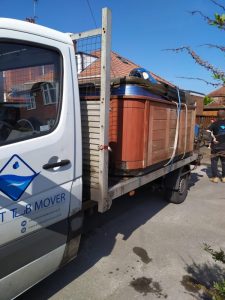 Hot Tub Mover – East Coast – 20th May 2020
---
Today was an East Coast Day for The Hot Tub Mover in baking hot temperatures.
First job of the day to was travel down from our base over the Humber Bridge to lift a hot tub over a wall for Craig who was supplying a used hot tub for client. Our crane made short work of the lift over from Craig's truck and we moved on leaving the customer filling their tub up with water ready to enjoy it later in the day.
The second job was a hot tub relocation in Lincoln. The tub was quite a heavy one but Dave and Paul persevered ( and perspired!!!) and got the hot tub moved and into place. The client Michael was very pleased and left us a great TrustPilot 5* Review.

Final job of the day was a local move in Bridlington. We made short work of the collection and soon had the tub loaded and delivered for the customer.
---
---
About The Hot Tub Mover.
We specialise in Hot tub moves, hot tub transport and hot tub delivery services across the UK. We are fully insured and have the correct equipment to move a hot tub safely and efficiently.
Our custom hiab crane enables us to lift hot tubs over walls and fences with ease.
Check our our rating of 5 Stars on Trustpilot.
Tel: 07525 326044 – Email [email protected]