Paul and Luke were in Nottingham to transport a tub locally for customer Marc. He had been let down by a local hot tub moving company in Nottingham so turned to the Hot Tub Mover to help him relocate the tub. Our hot tub truck crane came into its own here, Paul used it to lift the tub from the side of the garage and onto the truck deck.
At the delivery end, it was a straightforward sled into position in the garden.
One hot tub moved. One very happy customer.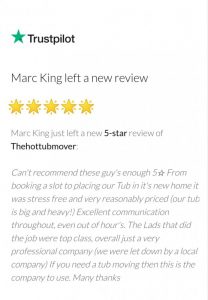 We specialise in Hot tub moves, hot tub transport and hot tub delivery services across the UK. We are fully insured and have the correct equipment to move a hot tub safely and efficiently.
Our hot tub crane truck enables us to lift hot tubs over walls and fences with ease.
Check our our rating of 5 Stars on Trustpilot.