Hot Tub Move-Crane Lift Into Garden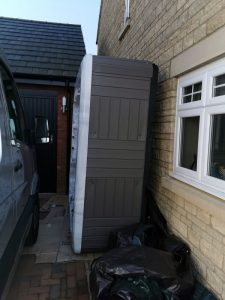 First Job today was to move a hot tub and lift into a garden
We travelled down to Northampton for this job which was ideal for our hiab. The client had a hot tub that had been delivered and left at the side of the house whilst some work was carried out in the garden.
Once the garden was ready, the hot tub was ready to be lifted in and moved into position.
First task was to load the tub on to the truck and get it ready for the lift over the wall. Paul had good access with the truck so it was nice and straightforward to lift on and secure.Once secure we travelled just round the corner to set the crane up to lift over the wall.
The hiab we use is ideal for this type of move, its 8 metre reach allows heavy tubs to be lifted over wall and fences with ease.
Watch the video below to see how we did it.
---
---
About The Hot Tub Mover.
We specialise in Hot tub relocation and hot tub delivery across the UK. We are fully insured and have the correct equipment to move a hot tub safely and efficiently. Our custom hiab crane enables us to lift hot tubs over walls and fences with ease.
Check our our rating of 5 Stars on Trustpilot.
Tel: 07525 326044 – Email [email protected]